Exactly a week ago, I attended the inaugural user conference for Nintex users and partners, called InspireX.
First of all a big Kudos to the team that I am sure put in countless hours of work for this event, and the hard work was evident in everything I saw over there. The venue was great, there was no confusion on the agenda, food was nice, and the above all, the sessions were really useful!
I was also fortunate enough to be selected to speak for the conference, and even more thrilled to have had a full room ( well, almost!) for my session!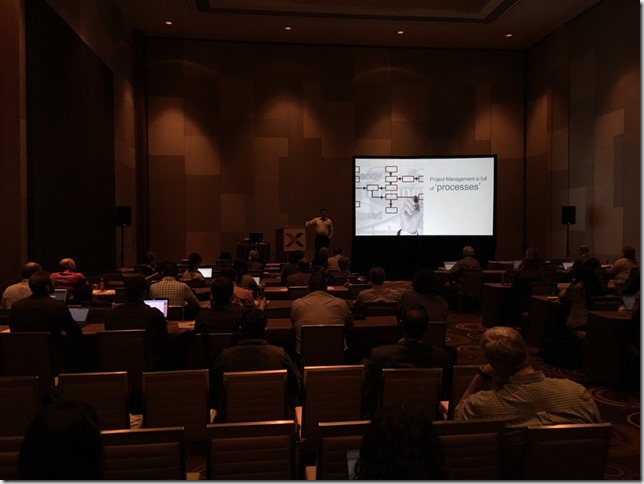 This event, unlike other conferences, was obviously focused on Nintex alone, and thereby had some power packed sessions on the products and their uses.
In addition there were also several sessions where the team collected feedback on their products and what could be improved. I am sure they got more than they anticipated

.
The keynotes were both great, and now I have a new phrase I can use in my presentations: Mind Grenades 

. Those who were at the keynote will understand what I mean. I have many many thoughts from the keynotes, which deserve a post of their own. More on those later!
Anyway, let me come to the actual topic of this post. Since I focused in my session, on the 'usage' of Nintex Workflow for Project management processes, I promised that I would give away the actual workflow files for download after the session. So here they are (at the end of the post) . For now, they are just the files, with no explanations etc., In the coming weeks, I plan to publish some blog posts on Nintex Connect, detailing how I actually put these workflows together.
If you have any questions, do not hesitate to contact me. And again, a huge thanks to all who came to my session, and laughed at all my silly jokes.

Download: Workflow to allow users to request a Project Site and upon approval, create a Project in Project Server
Download: Workflow to allow users to request a Project Site and upon approval, create a Project Site in SharePoint Site Collection
Download: Demand Management Workflow to check if all milestones in a certain stage have been completed, before moving onto to the next stage
Download: Demand Management Workflow to take a snapshot of key project data, when moving from one stage to another
Download: Demand Management Workflow to allow the project move back and forth based on approval or rejection between stages